Welcome to Toledo Ohio's
full service pharmacy since 1959
Ryan Pharmacy has been helping those in the Greater Toledo Area for over 50 years. We pride ourselves on our service and making sure all of our customers get the care they deserve.
From Kevin Secrest, our Head Pharmacist, to our friendly drivers which deliver to your door, Ryan Pharmacy has a dedicated staff ready to assist you with your health care needs and answer your questions. Please use our 24 hour prescription line or call us to set up a pharmacy consultation. We are here to help you!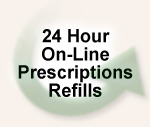 "What is durable medic equipment?" you may ask. Durable Medical Equipment and Orthopedic Supplies consist of many items throughout a wide array of health areas. Braces, such as ankle braces, knee braces, and wrist braces; Incontinence products like briefs, liners, and underpads are all included. Durable Medical Equipment and Orthopedic Supplies also include mobility aids like walkers, wheelchairs, and scooters. Many other items fall into this category: lift chairs, hospital beds, compression stockings, T.E.N.S. Units and much more.
This section of our website is for our professional health care providers. We cater to all health care professionals: Physical & Occupational Therapists, Athletics Trainers, Physicians, Chiropractors, Podiatrists and any other rehabilitation specialists.
Ryan Pharmacy & Orthopedic Supply is a member of The National Medical Alliance. NMA is a group of independently owned therapy suppliers with a national presence. This allows us to give you the small business service with the big business pricing. Look through the entire NMA catalog here.
We are family owned business serving the Toledo area for 50 years! In 1959, Gerald Ryan began a full-service pharmacy tradition; that tradition continues today. We are proud to offer:
Free Blood Pressure Reading in Toledo
Free Delivery in Toledo
Insurance Billing
Oral hygiene products
Private Fitting Rooms
And more!
Ryan Pharmacy was founded by Gerald G. Ryan in 1959 at the corner of Dorr St. and Byrne Rd. in Toledo. Gerald always believed that service is the most important part of any business, and he began as a full service pharmacy, with everything from prescriptions to magazines, to cigars in his giant humidor.
As times changed so did Ryan Pharmacy. The humidor was retired. New items can always be found on display, like hospital beds, walkers, and wheelchairs. On the old magazine racks, new literature appeared about recently-approved pain relief products called T.E.N.S. units.
Ryan Pharmacy evolved into Ryan Pharmacy & Orthopedics Supply in the 1970's. In the 1980's we began selling our T.E.N.S. units to physical therapists around the Toledo area. Now Ryan Pharmacy sells a full line of therapy products to hospitals and physical therapies throughout Toledo and the Midwest.
Ryan Pharmacy & Orthopedic Supply in Toledo will continue to change with the times and add those things that people most want and need from their health care providers. We welcome your visit and look forward to becoming your partner in healthcare.
We cater to University of Toledo students. Ryan Pharmacy is located within walking distance of the main Toledo campus.